There are lots of IT support companies in Wiltshire and Somerset, so at Priority IT we work hard to stand out from – and ahead of – the crowd. As a result, people often say there are three qualities that make us their first choice: our customer service excellence, cutting-edge expertise and in-depth experience. We serve towns and Cities in both counties. From Frome, to Bath, Melksham to Bradford-on-Avon, we are supporting local businesses with our IT solutions.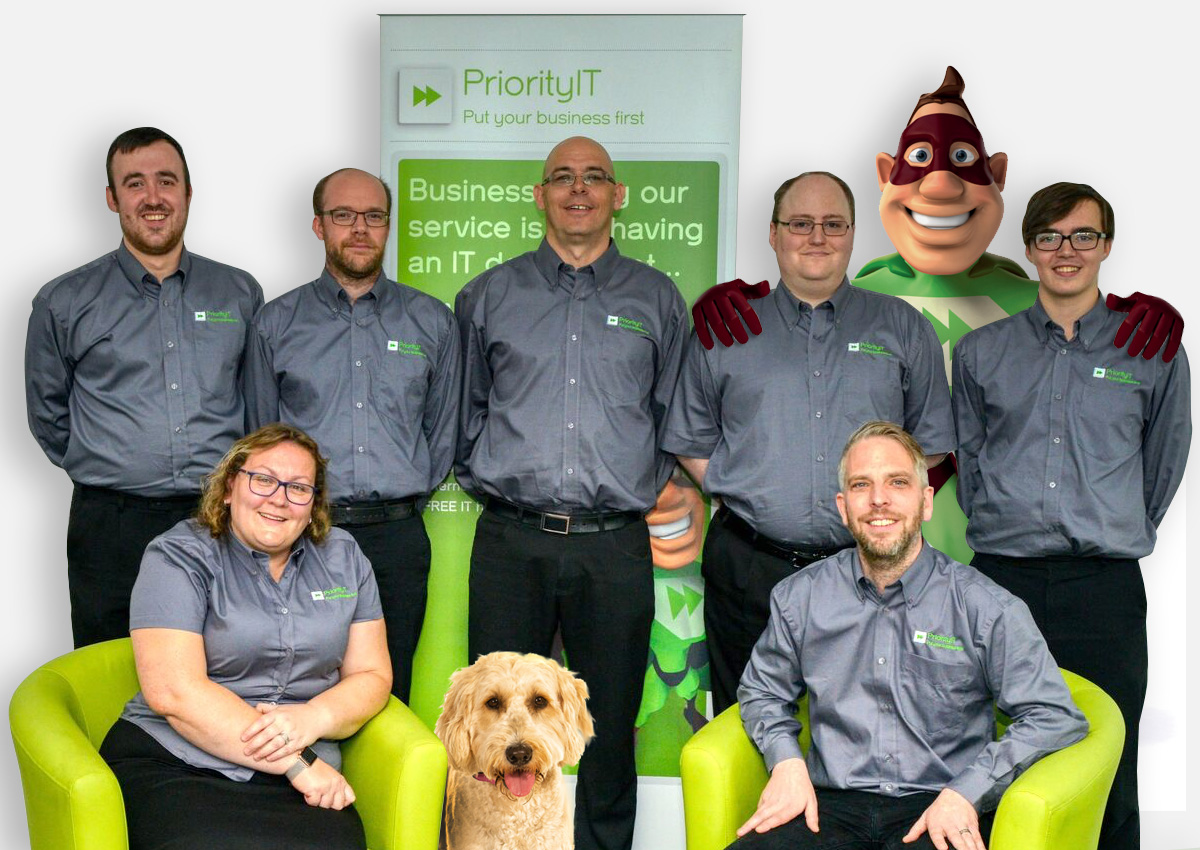 1. Customer service excellence
We've built a close-knit team of experienced, like-minded experts who also happen to be really nice people. This helps us to deliver a professional service in a personal, friendly way. We make complex IT issues easy to understand, and communicate in plain English not geek speak.
Our team is headed by our founder, Kieran Thomas, and Support Manager, Peter Hopkins. Kieran and Peter are involved in every aspect of the business, so you'll meet or talk to them at some stage, but whichever member of the Priority IT team you deal with, you'll receive the same friendly, reliable service.
2. Cutting-edge expertise
Our advanced monitoring systems ensure your network is running smoothly, and alert us as soon as something goes wrong. This high-tech approach enables us to prevent many problems from happening in the first place, and to fix many IT problems before you even realise they occurred.
When problems do crop up, our technicians can usually address these by accessing your computer remotely, or by talking you through the problem over the phone. And whether providing support remotely, working on-site at your premises, or diagnosing and fixing in our labs, our skilled technicians will resolve your computer and IT problems quickly and efficiently.
3. In-depth experience
Priority IT has over 10 years' experience of helping small and medium-sized businesses in Trowbridge, Chippenham, Swindon, Bath, Bristol, Wiltshire and the West of England get the most from their computer systems. We work with businesses in all kinds of sectors – from engineering and manufacturing to financial services and HR.
Our expert knowledge of the technology market means we know the products that will give your business the best value, the best performance and the best reliability.
We only recommend the hardware, software and systems suppliers we know and trust, which is why we're accredited partners of Microsoft and Cisco, and have partnerships with Lenovo, Dell, Toshiba, Symantec and Blackberry. Take a look at our partners page for more details of the suppliers we work with.
"After our initial meeting with Kieran, we felt he had a really good understanding of our business and the way we operate. The transition between our previous IT company and Priority IT was really smooth. Priority IT's service is very easy to use, efficient and they are quick to respond. We would recommend them to anyone looking for efficient, professional IT support."
Lianna Bradshaw, Jane James and Associates