Priority IT's computer recycling scheme has been given a boost after we were accepted on to the Microsoft Refurbisher Program. The redundant and unwanted computers we refurbish are passed on to new owners in exchange for a donation to Wiltshire charity Alzheimer's Support.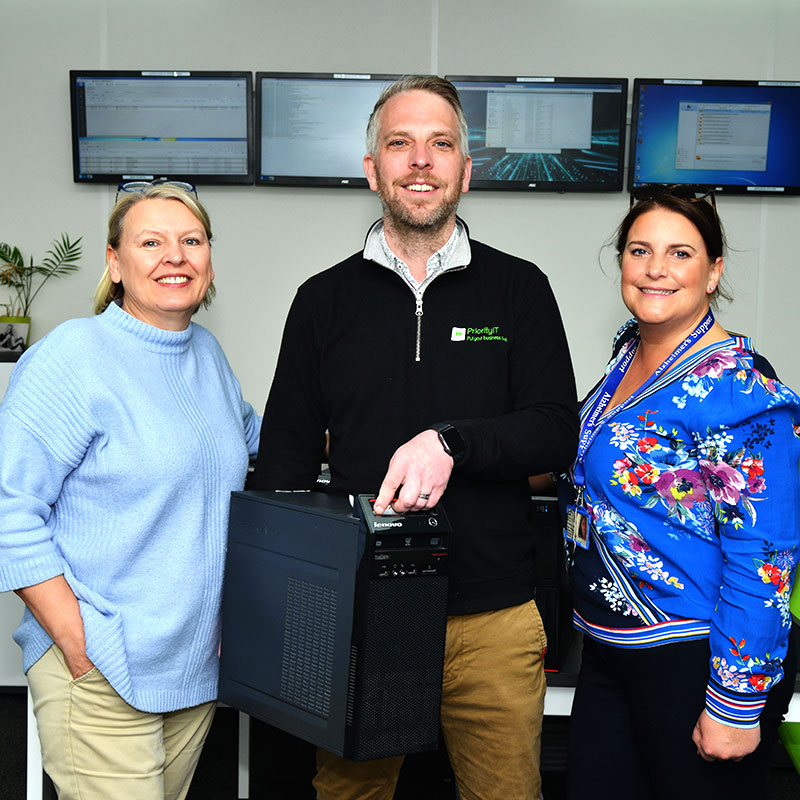 Now that we have been accepted onto the Microsoft Refurbisher Program, we hope to increase awareness about our initiative. So we can raise even more funds for the charity.
"For some time, we have been refurbishing redundant PCs and laptops – of course, wiping them clean first. We then pass on for a suggested donation to raise money for Alzheimer's Support. This has already brought in about £2,000 for an excellent cause," said Priority IT Managing Director, Kieran Thomas.
"Most of the computers coming through are Windows 7. With Windows 7 going end of life in January 2020. We decided it was time to get on the refurbisher program, so we can upgrade the operating system to Windows 10.
"We had to take an online test to be accepted onto the Microsoft program, which we successfully passed. Now we are listed as an official partner on the Microsoft website, we should be able to reach out to more people who are looking for a refurbished computer."
Helping to work on the refurbishments and upgrades is Trowbridge College student Harry Wareham. Who is on work placement with the Priority IT team for two days a week.
Alzheimer's Support CEO Babs Harris said: "We are delighted to be benefitting from this wonderful scheme which is recycling at its best. The money raised will help people living with dementia in Wiltshire to lead active, independent and meaningful lives. We need to raise £300,000 each year to support the services which make so much difference, so every penny helps. We are so grateful to Kieran and his team for supporting us."
Microsoft said: "Microsoft refurbisher partners are implementing innovative ways to transition to a sustainable, low-carbon future for our planet. Resulting in millions of PCs and all types of consumer end-of-life electronics recycling. A refurbished PC is a great value when you buy from a Microsoft Authorized Refurbisher—plus you have the added benefit of reducing e-waste worldwide."
Details of the PCs and laptops currently on offer – which include Lenovo Edge models – are available right here on the Priority IT website, for a suggested donation of £50 each. We also offer a secure data wipe service, again in aid of Alzheimer's Support, for a donation of £20.