There seems to be a myth floating around that IT support isn't important unless you're a big business, and we want to debunk that.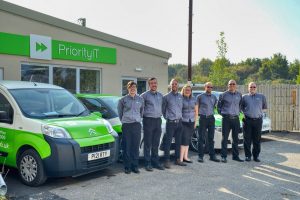 We get it, as a small business, IT support might not be on the top of your priority list. But, the importance of IT support should never be overlooked; it's rare to find a business that doesn't use or rely heavily on a computer these days. There seems to be a myth floating around that IT support isn't important unless you're a big business, and we want to debunk that. IT can be treated as a secondary concern by small business owners; however, the impact of a security hack or major failure of tech can be disastrous for a small business. No matter what size your business is, it's likely you've received help with your tech in one way or another, whether from an IT company, your neighbour, or your mate down the pub who knows his way around a computer. We may be biased, we do IT, but we're passionate about the value this adds back to any business owner and their teams. So why consider working with an IT support company?
Tech can go wrong
We're sure you've all experienced tech issues in your past. It could have come in the form of a battery failure, wi-fi or network issues or even problems simply logging in to your laptop, PC or mobile device. These, no doubt, have resulted in anything from a small setback, frustration or a complete business breakdown. If your business works online – has a website, runs from a laptop or a PC, needs a printer, operates social media channels, it is almost guaranteed that one day your tech won't be working as it should be. If your business was to suffer a hardware failure, you would be up and running far quicker as your IT company should loan you equipment.
As a small business owner, time is money, and by wasting it trying to fix the issue, you could be losing out on opportunities to get far more important tasks completed. The benefits of bringing in IT support includes the confidence that any time an issue arises, you'll be able to call an expert to discuss what's going on. They should then be able to remotely access your computer, to take a look at the issue and fix it. With minimal disruption.
Time saving
As mentioned above, trying to solve computer matters in your business can be a huge setback. It can stop you from working on the important stuff and leave you feeling very unproductive. You may have a computer Wizz friend who claims they will be able to help, but the likely hood is that you'll have to wait until they're free to fix it. This could be days! As well as this, an employee may spend their valuable time trying to fix the IT issue rather than focussing on their actual tasks. Outsourcing with a reliable IT company will ensure your business stays focused on getting your job done. We fully understand how limited time can be as the owner of a small business, which is why we prioritise your needs just as much as we would a larger company.
We know what we're doing
One of the biggest benefits of using an IT support company is that you'll gain from its wealth of knowledge and experience. An IT support company can be responsible for everything from the installation and configuration of computer systems such as Office 365, to the diagnostics of hardware and software, to giving support for any IT related issues. Meaning they'll be able to assist you with pretty much anything tech-related!
An IT company will ensure the security fixes to the computers are installed, anti-virus software is installed and up to date and there is a suitable backup. More importantly, if your business was to lose some of its systems, the IT company could run backup tests to ensure the data can be restored. This is something that someone who isn't a specialist may not know how to do.
It's not as expensive as you think
Using an IT support company is an investment. You'll no longer have to worry about increasingly expensive software, equipment, costly repairs or spending too much time resolving a tech problem. And there will be no unexpected costs when something breaks. We care just as much about small businesses as we do about big businesses, which is why you will pay a monthly flat-rate fee which is completely in line with your budget and relative to the size of your company.
Benefit from expert advice
Having an IT support company on hand allows you to have someone to offer advice in response to your tech questions. If your business is moving premises, changing management systems or seeking practical advice on staying secure online, it can be handy to ask a specialist you can rely on. As well as this, an IT company will be able to give advice about the importance of data security concerning GDPR.
High-end solutions
Your mate next door who has offered to help you with your IT will not have the same high-end solutions of an IT support company. As an SME, something severe such as a cyber-attack could be detrimental to the success of the business. An IT company will have all the programs and software's in place to prevent you from security issues, meaning your server and your companies' network will be as secure as possible. They'll also be able to recommend the best tools to use on your server so you're working as productively and effectively as possible.
We want to help small businesses avoid losing time over IT issues that could be fixed easily by an expert. It's important to have someone who knows exactly what they're doing and won't make any problems worse. If you do decide to start working with a team of IT experts, make sure the staff are all DBS checked and the company has Professional Indemnity. We have a close-knit team of experts all with a wealth of experience in a variety of roles. Together, we deliver a professional, and timely service in a personal but friendly manner. We are big enough to cope and small enough to care.
If you've been considering investing in IT support, we offer a free IT health check and would love to help. For more information on our services, please contact us on 01225 636000.