We've been helping local businesses continue to operate during lockdown by loaning equipment and working round the clock.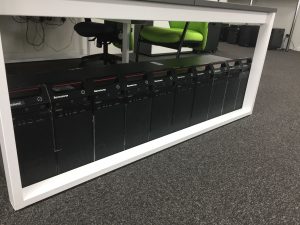 We have helped several of our clients during this difficult time including three larger firms who experience considerable server and hardware failures.
One of our clients called on a Saturday afternoon as they had suddenly lost all access to their server meaning they couldn't get into any of their systems. To look at the issue we accessed their systems remotely, doing it this way meant we didn't have to go to their building and could carry out a full diagnosis from the office. Unfortunately, their server had suffered hardware failure and required a full system restore.
Trying to get a new server in such a short space of time was going to be near on impossible. We identified a spare, loan server from our offices that was suitable and offered in on loan it to the company so they could get back to business as quickly as possible. We went to see them the next day with the fully restored server, and less than 24hours later, the company was back up and running.
Another company rescued was Robert Kime Ltd, an antiques and interior design company in Marlborough. Manager, Alex Simmonds, said: "Priority IT have been a tremendous support during the lockdown period. We had some serious IT issues which were impacting our ability to work at the office as well as from home. Priority IT recognised the importance of the job and made it a priority. They were able to help us quickly whilst also following all government guidance with social distancing. This allowed us to get back to work quickly and efficiently."
The server backup services we offer means that if a client's system goes into meltdown, or if important documents are accidentally deleted, we can recover the data quickly and efficiently.
More than 85 percent of businesses worldwide are using The Cloud to help backup data. Although this can provide an off-site backup in the event of a disaster, it's often less reliable than it should be and can even clog up the internet service. Data from this cloud backup is usually held in a data centre in the UK or overseas and getting the data back quickly when a disaster occurs can be difficult. Whereas most cloud services only backup documents and data, our backup service clones the entire server, laptop or desktop. Backups are taken every 15 minutes, they are encrypted and securely stored.