We are celebrating Kieran being named as one of the BBC's 'make a difference' superstars, with his name now set to be added to the side of a high-speed train.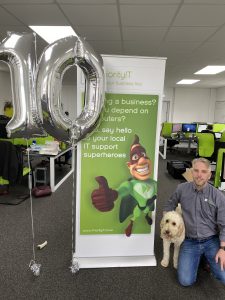 Kieran was originally one of the finalists for BBC Radio Wiltshire's Make a Difference Campaign for our laptop refurbishment initiative which saw 150 unloved laptops refurbished and gifted to the local community.
The valuable work of Kieran and the Wiltshire Digital Drive has meant hundreds of school children, local organisations and charities, have been able to get online and carry out their work and schooling during the current coronavirus pandemic.
Kieran said: "It's been a strange year, but I'm proud of that fact we've been able to give back during this time. I couldn't believe it when I got the call and what better time for it to happen than in our 10th anniversary year.
"It's amazing how one idea and gesture could make such a difference to people's lives- but we're not going to stop here. We've joined forces with Naturally Social, and Turner and Partners, to create the Wiltshire Digital Drive so we can carry on helping people and bridging the digital divide across the whole county."
We have also been chosen as one of the UK's Small Biz 100 companies; a campaign aiming to support and celebrate small, community driven businesses across the UK in the run up to Small Business Saturday which takes place on Saturday, 5 December.
Applications are now being accepted for the Wiltshire Digital Drive. Schools, charities and voluntary organisations are invited to register interest and apply for equipment, the closing date for phase ones is Friday 6th November. There will be three opportunities per school year to apply for laptops and to make sure demand is met, there will be two donation drives each year. During this time residents, and businesses, will be invited to donate any unwanted laptops or tablets so they can be refurbished and reused where needed.