Running a business efficiently and effectively is a process. It's a learning curve and it's evolving, whether you're running a business or working in a business, it's vital that you're getting the most from your 9 – 5.
Here at Priority IT, we provide business IT support to a range of clients; from owner-managed businesses to large corporate firms. Managing 1 laptop to over 100. Being their trusted IT team means we get to know the business inside and out. Advising and adapting the services and systems they need as and when they need it.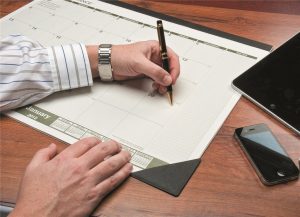 Database systems add structure
Databases are key to managing your company's data! No matter what size, we're sure you'll be familiar with Microsoft excel. However, as your business grows then it's likely that the data will too, and it will soon begin taking more time to process. Time that is likely better used elsewhere. And that's where we come in!
We recently built a database system for a client who was managing all their projects and work through excel spreadsheets. When the owners of the company want financial information, the managers have the arduous task of compiling more spreadsheets. This could take up to three weeks to organize. By introducing a database which structures all this data, the company can now access the information they need at the touch of a button.
Planning your production
Managing people's time is fundamental to ensuring profitability in a business. Which is why we've been working on a production planning tool for our client Roger Lewis Furniture.
To date, Roger Lewis (a British Designer and maker of contemporary furniture) did not have a system in place for estimating the number of hours needed to manufacture products. Meaning it was difficult to estimate lead times and the number of staff required.
They were also very reliant on experienced staff to process orders due to the variance on product names and fabric references, as used by their customers. Each fabric had its' own book with these variances listed but unfortunately, they would still experience order errors.
We're proud to say that, by working closely with their production team, we've been able to build Roger Lewis a system that maps the customer's products and fabrics as well as manufacturing times for each.
The result? Greater efficiency, effective planning and fewer mistakes.
Now that's how you get the most from your 9 – 5.
If you know you need to save time and money and need to get going quickly, then give our friendly IT Team a call on 01225 6363000 or email support@priority-it.co.uk for more information.