We have now helped over 100 children and young people since the beginning of May, by donating refurbished laptops in an attempt to bridge the digital divide across the county.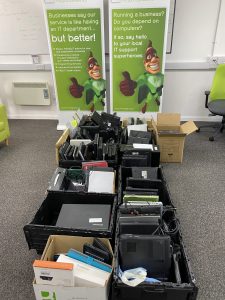 The team, many of whom are furloughed have been volunteering their time to work on machines that have been donated, with the costs for replacement parts being met by the company. Thanks to public support and both local and national media coverage, the initiative has been a huge success and we are determined to keep the project going.
It's really quite amazing how much support we've had since May. Since being on BBC Breakfast we've had a wave of new donations come in which will really help families during this difficult time. The majority of these laptops will require a new hard disk to make them safe and secure, and some need new chargers. It works out at about £30 to £50 per laptop.
To ensure the project's sustainability, we have launched a crowdfunding campaign seeking donations to help fund the parts that are key to making each laptop suitable for gifting to those that really need them.
So many people have said they want to help, but don't have a spare laptop to send so setting up the crowdfunding page made sense and will help us keep up the momentum.