In the summer of 2019, we ran a survey for our clients. We are always striving to out-do ourselves and offer the best possible service. So, we wanted to make sure we were delivering on this and could see what more we could offer clients in order for us to develop.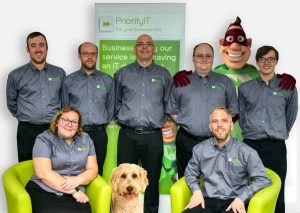 We were absolutely blown away by the results and thought we would share them with you. We love that we received the same results across this mix, showing that we really are big enough to cope, and small enough to care.
An amazing 92.16% of the respondents said they were very or extremely satisfied with our service. 0 respondents said they were not so satisfied or not satisfied at all.
When asked 'how knowledgeable do you find Priority IT technicians?', an incredible 96.08% of respondents said extremely or very knowledgeable.
We asked: 'On average, how long do Priority IT take to resolve your company IT issues?'. 62.74% of respondents said much shorter than they expected or shorter than they expected.
We were thrilled that 94.11% of respondents said our company was extremely or very convenient to use and 0 respondents said it is not very or not at all convenient.
A remarkable 96.07% said they would rate our quality of service as very high or high, with 0 respondents rating it as low or very low.
We asked our clients what other products or services they would us to offer. 46.88% of respondents said they would like cyber security training and education, which we have already begun implementing. 50% said website development and 40.63% said professional website hosting.
Our final question asked if there was anything the respondent thought we could do to improve our customer support. Here are some of the answers:
The customer service provided is excellent and all the team have high standards – nothing to add!
Not a thing!
Customer support is very good and in most cases instant.
Outstanding personal service to get you sorted whatever your IT need is. Great team.
No – we're extremely happy with all the support that they provide. Rarely have issues, and any issues always resolved quickly.
As a company we pride ourselves on being able to support clients no matter the size, from those who have just one computer, to those with multiple offices and 100+ machines. We love that we received the same results across this mix, showing that we really are big enough to cope, and small enough to care. We are immensely proud of the work we do and the support we provide. The fantastic results we received have only motivated us more to provide the best possible service.
If you've been considering investing in IT support, we offer a free IT health check. For more information on our services, please contact us on 01225 636000.