Alzheimer's Support recently underwent a huge computer upgrade program with extensive help from Priority IT.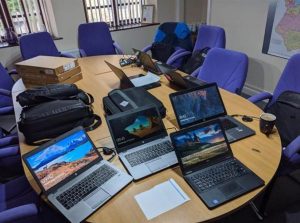 Alzheimer's Support, a Wiltshire based Dementia support charity, recently underwent a huge computer update program with extensive help from local business Priority IT.
The Problem
Alzheimer's Support has offices in Trowbridge, Devizes and Warminster, with employees working remotely around Wiltshire. Its computer systems were eight years old and were scaled for half the users they have now. The computers were also running Windows 7 and Windows Server 2008 on the system, both of which go out of support in January 2020. For this reason, it was critical that Alzheimer's Support had a drastic change in its computer systems.
How Was This Achieved? 
The six-month long project involved updating computer systems so they were on The Cloud. All computers were upgraded to Windows 10 and Office 2019 and six laptops were installed directly from Priority IT's Alzheimer's Support Refurbish Program. Rigg Construction kindly donated the laptops during a recent computer upgrade project of their own. So far, £1218.20 has been raised towards Priority IT's target of £2000, which doesn't include the 24 computers also donated.
"Priority IT have been extremely efficient in helping us solve issues with our computers. They showed us how to set up and use everything, in ways we understand. Colleagues now have the flexibility to operate anywhere and access company data even when completely offline." Said Lin Castle, Office Manager for the charity.
"Overall, Priority IT refurbished, upgraded and donated 18 computers and six laptops. All employee feedback was phenomenal and the help with sorting out the software was priceless."
The Priority IT team were a large support system to the project, managing it from start to finish and working tirelessly to ensure the IT operations were functioning efficiently throughout. For more information regarding Priority IT and their services, please contact them at.