We are tremendously proud of the work we do, the support we provide to our clients and the enjoyable working environment we've created for our team.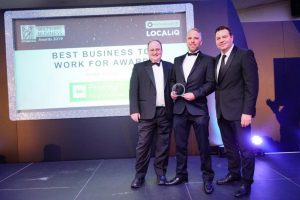 As 2019 is coming to a close, it's time to reflect on our achievements and highlights during the year. We have accomplished a lot, not only through improvements in our quality of service but through the support we've provided to local charities and businesses. Here are some of the key successes that we really want to shout about.
We Are Winners
After being shortlisted in the Wiltshire Business Awards, we won third place in the Best Business to Work For category! Our team joined over 80 other finalists for the 25th anniversary of the awards, at a black-tie evening in May. The award really recognises the great environment we work in and the strong team spirit we share. This win has been revalidated by 100% staff retention this year too.
Supporting Others
You would have seen in our recent case study that we have been involved in a project with Alzheimer's Support, upgrading their computer systems to The Cloud. This was probably one of our most complex projects throughout the year, as there were more computers outside the main office than within it. We upgraded them to Windows 10 and Office 2019 and six laptops were installed directly from our Alzheimer's Support Refurbish Program. So far, we have raised £1300 towards our £2000 target (this doesn't include the value of the 24 computers and five laptops donated). As well as this, we donated IT equipment to Swindon Dance, with a value of £1110 and raised £300 for Julian House.
Our Diverse Clients
We cater our services to meet the need of every client, which is important when they range in size as much as ours do! Our smallest client, by number of computers, is Naviga Consulting, with only one. We provide remote IT support to the home office, provide backup, anti-virus software and offer support and peace of mind for any IT related issues. As the business only uses one computer, the smooth running and efficiency of it is critical, so we make sure it's always running at its best!
In contrast, our largest client, Bowood, has six servers and 59 computers. We are the first point of contact for all IT issues and we look after their network infrastructure. We regularly visit the team to keep on top of all issues and perform pro-active maintenance to ensure their system is both secure and stable.
The Incredible Results
Earlier in the Summer, we ran a survey for our clients to explore how we could improve the quality of our services. We were blown away by the results; 92.16% of the respondents said they were very or extremely satisfied with our service and 96.07% of respondents rated our quality of service as high or very high. Our level of knowledge as IT technicians was also rated very or extremely knowledgeable by 96.08% of respondents.
Everything mentioned above has made 2019 a fantastic year for us. We are tremendously proud of the work we do, the support we provide to our clients and the enjoyable working environment we've created for our team. So, let's all raise a glass to our fantastic and hardworking team. Without them, none of these successes would have happened. We are excited for what will come in 2020.
The Best Time to Seek Support from an IT Support Company
The importance of IT support should never be overlooked; it's rare to find a business that doesn't use or rely on a computer. When your business grows and the network infrastructure becomes more complex, it is beneficial to use an IT support company, so you can focus on more important things such as business development. An IT Support company can be responsible for everything from the installation and configuration of computer systems, to the diagnostics of hardware and software, to giving support for any IT related issues.
As an SME, a cyber-attack can be detrimental to the success of the business. Through outsourcing an IT support company, your companies' network will be as secure as possible from potential cyber threats. As your business grows, using an IT support company can also be extremely beneficial as it will save your company investing into IT equipment and software for an internal IT team.
Using an IT support company is an investment. You'll no longer have to worry about increasingly expensive software, equipment, costly repairs and spending too much time resolving a tech problem, there will be no unexpected costs when something brakes, and you will pay a flat rate fee which is in line with your budget and relative to your company size.
If you've been considering investing in IT support, we offer a free IT health check. For more information on our services, please contact us on 01225 636000.