Tomorrow we're celebrating Small Business Saturday by launching our new Cyber Awareness online training platform for businesses.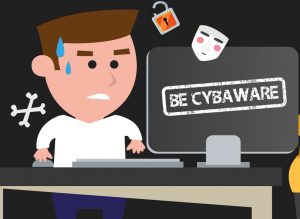 Due to the COVID-19 Pandemic, businesses across the UK have more employees than ever working from home, and with remote working comes increased security risks.
Cybercrime currently costs UK businesses more than £21bn a year and during 2020 hackers launched a wave of cyber-attacks trying to exploit British people working from home, as the coronavirus lockdown forced people to use often unfamiliar computer systems.
Statistics show that one small business in the UK is successfully hacked every 19 seconds, and according to Hiscox around 65,000 attempts to hack small- to medium-sized businesses occur in the UK every day, around 4,500 of which are successful.
Your computer may be up to date with the best Anti-Virus software, which is great, but 90% of data breaches are human error. According to a CybSafe analysis of data from the UK Information Commissioner's Office (ICO), human error was the cause of approximately 90 percent of data breaches in 2019. This is up from 61% and 87% in the previous two years. If your staff aren't trained toward cyber threats and techniques, then your business is at risk.
Keep your staff safe without being in the office with our online training course, which covers cyber threat, phishing, using the internet, secure passwords, malware, social networking, mobile device security, cyber safety at home, physical security, incident response and information protection. The course is accessed through a combination of eLearning modules, videos, quizzes and exams that help drive behavioural change and reduce cyber risk to your organisation
The cost for the training is charged on a per user per year basis, making it suitable for businesses of any size.  Prices start at £15.00 plus VAT per user per year and we'll get you up and running by guiding you through the set up and training. That's £1.25 per person, per month for 12 months.
If you'd like to chat to the team about our new Cyber Awareness online training platform, please get in touch by calling us on 01225 636000 or by emailing: info@priorityit.co.uk