The High Sheriff of Wiltshire, Mr Ashley Truluck, hand-delivered the High Sheriff award to us today (November 4, 2020), recognising the laptop refurbishment scheme we started back in May.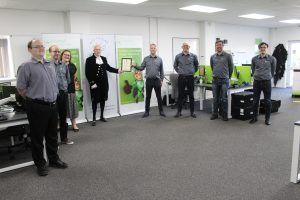 Mr Truluck had already written to volunteers across Westbury thanking them for their ongoing service but made a special trip to our office so he could personally hear all about the schools and organisations we have been able to help during the lockdown. He then presented us with the High Sheriff Community Award!
Kieran, our managing director, showed Ashley round the office and explained how far the initial scheme had come and all about the new Wiltshire Digital Drive that has been set up with Naturally Social and Turner & Partners. 
"When I was sworn in as High Sheriff back in March, I advised my theme for the year will be One Community. I would shine a light on those who have volunteered their time and expertise to help, but who are not necessarily looking for recognition. Kieran and his team have gone above and beyond to make a difference, especially in this difficult time.  
"I'm here to say two of the most powerful phrases in world to them. Thank you and well done."  
Kieran said: "We're absolutely honoured to receive the award, we were really not expecting it. It was a real team effort to get the initial idea off the ground and this award just shows that all our hard work has made a difference across the county".  
This award also comes after receiving a personal thank you card from Mrs Sarah Rose Troughton, HM Lord-Lieutenant of Wiltshire for the same project. Not only that but Kieran is due to get his name printed on the side of a Great Western Railway high-speed train in recognition of the difference he has made in Wiltshire.
The High Sheriff's Awards are designed to reward the volunteers, charities and community groups who devote their time and energy to improve the communities in which they live and work, and we couldn't be more proud.