The idea came to us at the beginning of lockdown to refurbish and donate unwanted laptops to help students with home schooling. We are overwhelmed and humbled by the success of our laptop recycling initiative.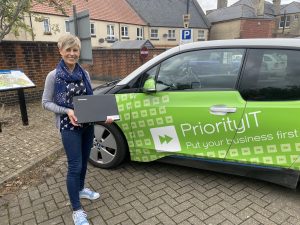 We had no idea back in May when we first had the concept, that we would go on to refurbish, recycle and gift more than 150 laptops back into the local community.
The original plan was to help bridge the digital divide and offer laptops to students who didn't have access to one to carry out their schoolwork during lockdown. But as the scheme progressed, we soon realised that charities across the county also require this technology to carry out their vital work.
Calne Wordfest, a charity that aims to improve adult literacy across the town, contacted us as they required some laptops to help run their upcoming course. A spokesperson from the charity said: "The laptops donated by Priority IT will give us the facility to connect the dyslexia specialist with our students via Zoom. The laptops will also open up new opportunities for the teacher in the room, who will be able to integrate reading on a PC into their teaching."
We would like to thank everyone who has donated either laptops or money to our laptop recycling initiative. We have been amazed at everyone's generosity over the past few months and so grateful to those who have helped so far. With donations still coming in, we are now able to go back and work with social services, bridge that digital divide, and help those that were classed as not eligible for government grants but still need support.
Five tablets have also been given to Alzheimer's Support to help with its singing and exercise sessions which are now being carried out via Zoom. A spokesperson from the charity spoke to us and said: "It's so kind of you and will make a great difference to the people we support".
We plan to keep this scheme running and are now looking at ways to make it sustainable. The way we all work and learn has altered. Schools are holding assemblies and classes via Zoom and charities are having to run various fundraising and support sessions online too. The need for these laptops is still there and we want to be able to help as much as we can. We delivered five to Holbrook School in Trowbridge the other week and after a clear out of their cupboards, they have found five old laptops that they've now donated back to us. Once we've securely wiped them and fixed them up, we can donate them back out to other people. So, the cycle continues, and this is what we need.